The #4 Rated Jet Lag Product: JetFighter
JetFighter - #4
Jet Lag Product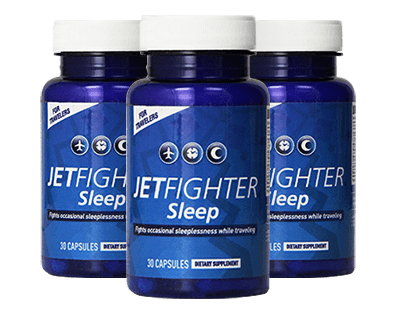 Supplement Facts
Servings Size: 1 capsule
Magnesium (oxide / citrate)
100mg
25%
L-Theanine
200mg
*
GABA (gamma-Aminobutyric Acid)
50mg
*
Phellodendron Root Powder
50mg
*
Mucuna Pruriens (15% Extract) (seed)
50mg
*
5-HTP (5 Hydroxytryptophan)
25mg
*
Melatonin
1mg
*
*Daily Value not established
This remedy claims to be ideal for frequent flyers as it deals with certain problems and symptoms usually associated with jet lag.
EDITOR'S RATING
25 User Reviews
The purpose of this review is to analyze the product Jet Fighter Sleep. This remedy claims to be ideal for frequent flyers as it deals with certain problems and symptoms usually associated with jet lag. It is supposed to regulate the circadian rhythm and fight against exhaustion and sleeplessness, as well as, against anxiety and restlessness. Keep reading to find out more about this product and if we think it would be a suitable purchase for you.
Ingredients
The active ingredients of this product are:
Magnesium oxide (or Magnesium citrate)
L-theanine
GABA
Phellodendron Root
Mucuna Pruriens Extract
5-HTP
Melatonin
Note: This product contains melatonin. This is a key ingredient to help balance the body's circadian rhythms and regulate sleep cycles. However, there is strong clinical evidence to suggest that melatonin should only be taken in the evening before you sleep and NOT during the daytime. Plus, the potency of melatonin that is used should be higher than 1mg (it should be between 3mg to 6mg). This product contains quite a low dosage of melatonin, which makes us question its effectiveness. Because it contains melatonin, this product could not be taken until the nighttime, losing valuable time during the day to help alleviate other jet lag symptoms.
Dosage
As a dietary supplement for adults, the ideal dosage of this product is one, maximum two capsules taken with water before bedtime.
Possible Side Effects
Given the low quantity of melatonin, side effects are unlikely to occur for this product. The manufacturer states that they could include stomach or headaches, dizziness or some sort of slight irritability. This product is also not recommended for persons under 18, or pregnant or nursing women.
Price
A container with 30 capsules costs $34.99. A bit expensive for only a months supply, but there are also discounts available. When buying more than two containers the price drops to $14.99, which can save you about $40. Even so, the price is still higher than other similar products.
Guarantee
Fortunately, the manufacturer does offer a full money-back refund if you are not pleased with this product. They state that they offer a 30 day refund period, however, we were unable to find any specific details about how to claim back your money. There is no mention about the condition in which the product needs to be returned. Despite the lack of information on the guarantee, most of this product's reviews are positive.
Conclusion
Jet Fighter Sleep is a tested jet lag relief product. It is easy to administer and the fact that it only needs to be taken once a day is definitely a plus. However, this is a product that needs to be taken only at night. This left us feeling slightly disappointed as jet lag symptoms need addressing throughout the entire journey and immediately upon arrival. If you arrive in the middle of the day for example, this product should not be taken until the evening, wasting valuable time to treat jet lag. We like the fact that the manufacturer does offer a refund in case the product is not to your liking. However, we were concerned, given the fact that they have not offered specific details regarding the return policy. The price of this product is equally discouraging since there are other similar options that are cheaper. Add these to the low melatonin concentration and you soon realize this may be quite a questionable purchase choice.
Click here to learn about our Top Jet Lag Products.
Aaron Greer
reviewed on and gave it a rating of
3
.