The #3 Rated Jet Lag Product: No-Jet-Lag
No-Jet-Lag - #3
Jet Lag Product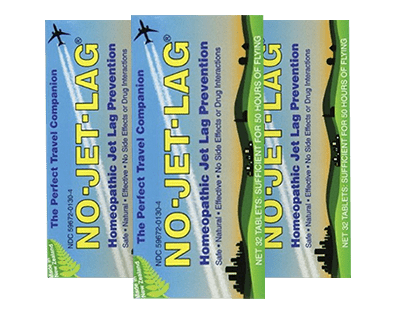 Drug Facts
Arnica Montana
30C HPUS
Bellis Perennis
30C HPUS
Chammomilla
30C HPUS
Ipecacuanha
30C HPUS
Lycopodium
30C HPUS
this is a product that is meant for those who suffer from the symptoms of jet lag. It states that this product is safe and natural and does not result in any side effects or drug interactions
EDITOR'S RATING
31 User Reviews
The following, is a comprehensive review for No-Jet-Lag's Homeopathic Jet Lag Prevention Tablets. According to the manufacturer, this is a product that is meant for those who suffer from the symptoms of jet lag. It states that this product is safe and natural and does not result in any side effects or drug interactions. If you are interested in learning more about this product and whether or not it is ideal for you, please read on to learn more.
Ingredients
This product's active ingredients include:
Arnica Montana
Bellis Perennis
Chamomilla
Ipecacuanha
Lycopodium
The inactive ingredients are:
Sorbitol
Sterilized Talc
Magnesium Stearate
Dosage
For adults and children 2 years and older, chew one tablet upon take off and then follow with one tablet every two hours and one after you have landed. If you happen to be sleeping, you can take the tablet every four hours rather than every two. This is best taken separately from your meals.
Possible Side Effects
According to the manufacturer, this product is safe for everyone to use. However, they do state that those who have an existing medical condition should exercise caution, especially when taking long flights. If you are still unsure or have questions about this product or the ingredients in this product, it is always best to speak with your doctor to address any concerns you may have.
Price
This product needs to be purchased from an authorized seller. There are varying prices for a bottle of 32 tablets. The retail selling price for this product is $11.99; however, this product was also available for $10.99 or lower. Some sites also provide auto reorder options.
Guarantee
There is no information about a guarantee on the manufacturer's website. If you wish to try this product, we suggest for you to shop around and find an authorized retailer with a strong return policy, in case this product does not work for you. You will want a policy where you can return open and used products. As far as customer reviews go, you can find plenty. While most are generally positive, there are a few negative ones which state this product did nothing to improve their jet lag. The reviews on the company's website are all positive, so if you really wish to get an honest opinion, it is best to look at another seller's website.
Conclusion
No-Jet-Lag Homeopathic Jet Lag Prevention Tablet's seem to be an ideal way to help reduce the symptoms of jet lag. With mostly positive reviews and a relatively low price, this product could be ideal for you. However, it is concerning there is no information regarding a manufacturer's guarantee on the company's website. Additionally, it would appear that only certain retailers are able to supply this product which means, that to find the best price and an ideal return/refund policy you may well have to spend time shopping around.
Click here to learn about our Top Jet Lag Products.
Aaron Greer
reviewed on and gave it a rating of
3
.